i wanna wrap it all up for what happened in May.
my faves. good news. good music. good movies.
Movie for this Month:
a martial-action movie at last! and to think it has 2 of the finest i'll-kick-your-butt-without-even-lifting-a-finger action stars in it..hehe. however, i
think
shia labeouf would do great playing the character as the american boy who got warped in old chinese era with the coolest moves. also teach me how to twirl those sticks chan and li!
What I'm listening to:
1. Moulin Rouge Soundtrack.
I know this movie was done years ago but i only got the realization that it has the most soothing soundtracks.
-Le Tango de Roxanne is steamy.
-Elephant Medley is wonderfully mixed up.
-Bolero is sooo good i could feel my heart dancing to it.

Truth.Beauty.Freedom. But Most of All LOVE.
2. The Ting Tings' We Started Nothing Album
The Ting Tings are an English indie-pop band, consisting of two members.
-That's Not My Name is popish fun.
-Shut Up and Let me Go is anger pop.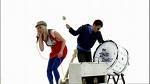 3. Britney Spears' Blackout Album
a lot of party music in here. not my type but it's really catchy.
-Hot As Ice. that's a paradox right?
-Toy Soldier. atten-hut!
-Piece of me.
-Radar.
Highlights of May:
- OR/DR at SGH
- community duty at labangon,
- hospital duty at NGH
- mom now a real estate broker.
- mother's day
- American Idol finale: it's COOK-ing.
- end of The Black Parade Tour
- MCRmy protest against The Daily Mail
xoxo
c.