my drama story for the whole week!
Feb. 25
A happy 1 month to MCR who had their concert here in the Phil. yey! And a happy 1 month who went there also...
Feb. 26
my friends and I always has this trouble with marian. not that she's a troublemaker or causes a ruckuss in school, but u know how girls are, ehem ehem...
my friends and i have disliked her character now just coz she isnt herself anymore.
the point is, she's a social climber. wants to be one of the cool kids. a wannabe.
what is this? highsschool??? but really, we just don't see why she has to change.
unknowingly, i didnt know all my other female classmates felt the same way about her. they don't like her as well. and this is called backstabbing. about 20 of us girls were in a room and they just talked about her. what she did, what she said, what she copied from someone...albeit someone's contact lens color, outfit, hair color and etc.
oh my gosh! what's happening to her?...
and furthermore i didnt expect everyone else to be feeling that way also about her.
ahaha, i was listening the whole time while they were doing the back stabbing.
this was BSN2J girls vs. Marian
winner: BSN2J girls
Feb. 27
while still on the topic of marian
something so unexpected happened... nicole and i were gonna go to the CR when out of the blue marian was there with her new found friends.
Eva suddenly came up to me and said: "Lucille, you better tell how you feel about her so all of us would give this thing a rest"
dont get her wrong, she also dislikes marian.
but whoa! i didnt expect to open up about her wrong doings in a public area, yep we were at the girl's lavatory...
oh well..i said everything i could possibly think of about what she did to madz, me, kathy and everyone else...
about how she's so obsessed with getting a boyfriend that it's annoying to hear her talk about a really cute guy over and over and in the process comparing herself to someone on how she's prettier, bla bla bla bla...
about how she borrowed mad'z slippers and letting madz walk barefoot in the girl's shower room during our PE class..
about how she OVER analyzes a thing when a boy suddenly sits too close to her...
about how she still loves aivan, take note she broke up with him 3 times i think! and she had the guts to even ask him back...poor thing. poor guy.
we could make a list about what she did wrong but that would be unimportant for now.
so yes, i told her in her face.
i was sincere and she was also. or so i think she is.
tears welled up in her eyes but not once did i form a tear.
that was such a wrong place to tell her all those stuff.
and other people even heard our conversations.
oh such girl drama!
winner: still the BSN 2J girls!
Feb. 28
I DID NOT sleep just so i could finish editing our movie.
and again, i slaved a lot for this group project so they better give me some of the credits when they see it.
So this time it was my turn on the judging table.
kathy told me that emma cried earlier that day because she couldn't take what I did to her anymore.
i was oblivious to what i did to her.
then bam, it hit me!
i was too bossy at her and kathy said the same thing and that's the reason why emma cried.
i was bossy?
i guess i am.
hhmmm...i kinda am.
so emma and i talked about how i keep taking advantage of her, i keep asking her to do this and that taking to thought that i was mad at her.
i dont have a grudge against her, she probably must've interpreted all my instructions wrong.
we talked. we settled things. i said sorry. we cried.
i really appreciated them telling to my face that i was bossy.
what i mean is, if no one ever told me that then i wouldve continued taking advantage of her. i dont want to see our friendship blowing to bits.
this was what suddenly popped into my head after that whole ordeal, i remembered reading this from the Bible and i'm not good at memorizing verses so those arent the exact words:
"you judge at the speck on the eye of your brother, yet look at your eyes,
you have a wooden plank in it!"

loser: me
winner: friendship!
Feb. 29
a leap year, woohoo.
today is the day we show or movie, The Dancers.
earlier, i was having trouble converting the whole thing into a movie file.
i burst into tears coz its taking so lime to convert it and it took me like a million times to do the same thing over again.
good thing gleendale was in the rescue.
the gang approached glenn, we needed his help so badly.
glenndale was in it to help us. we went to his house and he did all the magic from there.
his CD burner didnt do the trick so i went and bought a fresh CD and i burned the movie myself.
Madz went to my house so we could watch our movie. and we shrieked for joy seeing that the movie played in our DVD player.
but oh my, some things kind of went wrong, here's why:
-the fonts i used for everything werent the same ones i used on my lappy. it must have changed when glenn transferred all my files transferred to his PC.
-the background music is too loud! we could baely hear the conversation of the whole movie
-the ending was fine but the picture i posted at the end didnt turn out the way it was supposed to be. again coz of the transferring of the files. oh dear...
Another frustrating thing is:
Kathy, Marian and Aileen didnt show up for the premiere of the movie! About half of the class only came coz they have their movies to shoot as well. Urrrghh..
I didnt sleep for that and this what i get? an empty seat?!!!!
Postive Side:
everyone kind of looked like they understood the movie..ahaha
AND
we got a flat 1 for it (a perfect score)..weee
Another plus plus plus note:
my bro, sis and i watched Sweeney Todd: Demon Barber of Fleet Street!!!
I have to say that's another movie slash musicale that's going on my list!
I love the songs so much. So catchy and most importantly i can understand clearly what they were singing. Some musicals just doesnt seem to out in mind the proper articulation of words anymore, tsk tsk but thank heavens i didnt need subtitles for this one.
I simply love the part when todd came to mrs.lovett shop, she sang "worst pies in london",
"by the sea" is also lovely, they look so cute on the beach, on the patio, on the dock.
that "joanna" song was simply catchy.
the one when todd sang to his blades the "my friends" song and when mrs. lovett sang together with him gave me the goosebumps!
I simply love what he's done to his hair.
The whole setting reminded me of Moulin Rouge.
i love the story ever so much! ahaha, and who to think that his wife is still alive?
the ending kinda kept me hanging. what will become of joanna and antony?
so bloody, so gorey...yet so enticing.
*applause*
cheers to Mrs. Lovett and Mr. Todd and most of all to Tim Burton.
Oh yeah, i hear this is based on a true story.
waaahh...human meat pies?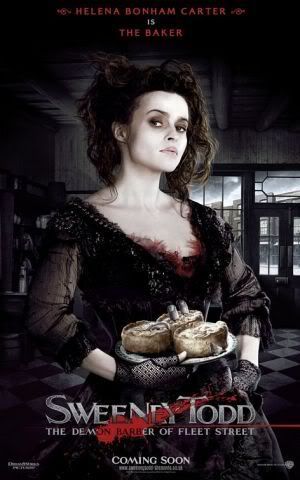 oh mr.todd you take my breath away.
xoxo
c.